Dream House Reloaded
V 2.0 mod for Minecraft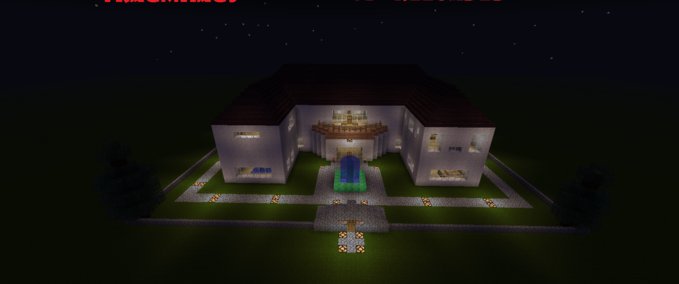 description
Hello dear community,

We thought we dig again a classic and set you today the "dream home Reloaded" before.

Why do we still upload a version of this object?

-> Out for a very simple reason, because the two predecessors especially small blemishes and also from time to very large bugs we have brought it again from 0 gefix that is all redstone lines were re-examined and corrected trifles.

features:


- Ground and first floor can be switched separately from each other with light to \ from!

- Garden is also activated with light

- New Ausßenpool (also with selectable light)

- Bell sounds now after 3 seconds after pressing on to people

- House is already set up for the most part (can be designed as desired self)

 


There are also almost everywhere small switch or extras to be found eg at the pool or in the sauna

 

So who is now the house says I like ansich very good but a few things I'd change but, this is all no problem but I would only counsel you to stay away from the ceiling and also best to have ground to dan there may be problems with of light technology give but that is your thing.

So much for the house, we hope you can do with this object something and if not then please write it in the comments what has disturbed you, and also on new project proposals we would be pleased

 


! THE RE-UPLOAD ON THIS OR OTHER SITES WITHOUT PERMISSION IS PROHIBITED!
Credits
FORCE-TEAM
Files

Empfehlungsrate
-/-
noch nicht genug Stimmen
Do you think this mod should be featured?
}