Register with:
---
or register with your emailaddress
Sphax PureBDcraft HD mod for Minecraft
0 Downloads today
5,664 Downloads total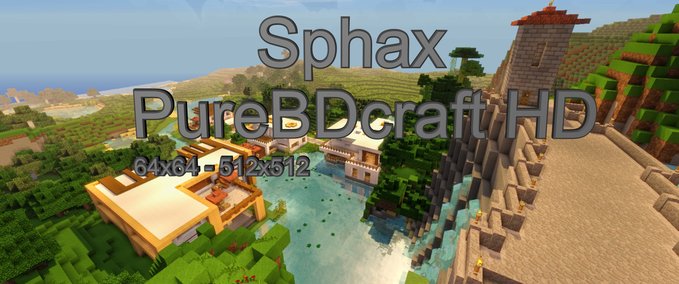 Sphax PureBDcraft HD v 1.6 | 1.6.2
Sphax PureBDcraft HD

The Sphax PureBDcraft HD is a very popular textures pack. That's because his

unique desing and high resolutions it is a real "eye-catcher".

The Texture Pack is available in all resolutions: 64x64, 128x128, 256x256 and even 512x512

Attention

The normal download link at the bottom of the page is a complete pack with all resolutions of the texture pack!

 

Download links of individual textures packages:

64x64 Texture Pack: http://ul.to/w86t0k25

128x128 Texture Pack: http://ul.to/e09wycp4

256x256 Texture Pack: http://ul.to/sbzs7u8w

512x512 Texture Pack: http://ul.to/dgzgwd6s

 

 

 

Attention

There must be a very good and strong performance PC system with enough RAM (memory) for the resolutions 256x256 and 512x125. If not, it may cause problems.
Nur ich, ich habe das Pack entwurfen
Do you think this mod should be featured?
NaN%
Empfehlungsrate:
noch nicht genug Stimmen
Comments for Sphax PureBDcraft HD